MGM Grand Blackjack rules
MGM Blackjack Rules | MGM Grand
January 17, 2017 – 01:30 pm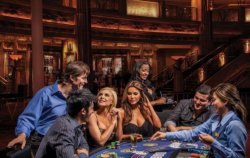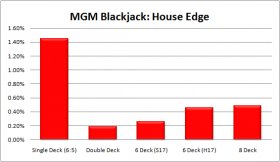 Single Deck Blackjack
Table Limits: $10 minimum – $2, 000 maximum
Blackjack Rules: dealer hits on Soft 17 (H17), double down after splitting allowed, no resplitting aces, blackjack pays 6:5
Double Deck Blackjack
Table Limits: $50/$100 minimum – $5, 000 maximum
Blackjack Rules: dealer stands on Soft 17 (S17), double any two cards, double after split allowed (DAS), no resplit aces, no surrender
6 Deck Blackjack (S17)
Table Limits: $25/$50/$100 minimum – $10, 000 maximum
Blackjack Rules: dealer stands on Soft 17 (S17), double after splitting allowed (DAS), resplit aces (RSA), surrendering allowed
6 Deck Blackjack (H17)
Table Limits: $5/$10/$25 minimum – $10, 000 maximum
Blackjack Rules: dealer hits on Soft 17 (H17), double after splitting allowed (DAS), resplit aces (RSA), surrendering allowed
8 Deck Blackjack
Table Limits: $5/$10 minimum – $5, 000 maximum
Blackjack Rules: dealer hits Soft 17 (H17), double after splitting allowed (DAS), resplitting aces allowed (RSA), surrender offered
Card Counting at MGM Grand in Las Vegas
Card counting conditions are better at MGM than at most other places in Las Vegas. One great aspect of playing blackjack at MGM is that the casino is huge and is usually packed, especially on weekends. This gives surveillance and the pit crew a lot of action to watch over. There are plenty of high rollers in the S17 area, so it's easy to blend in there. The double deck game at MGM Grand is really good for a solo card counter, but it's watched pretty closely. Be sure to keep your sessions short and use some decent cover.
For card counting teams, you'll find that entering mid-shoe on the 6 deck tables is pretty easy and gets very little hassle. Some casinos don't allow mid-shoe entry while others impose a mid-shoe entry max bet of $200 or so (New York, New York and Planet Hollywood come to mind). This isn't the case at MGM, so go ahead and throw those yellow chips out there!
MGM Grand – Las Vegas
3799 Las Vegas Boulevard South
Las Vegas, NV 89109
(877) 880-0880
Age Requirement: 21 and up (21+)
Hotel / Resort: yes
Save your buddies some cash at the tables. Like BlackjackClassroom.com on Facebook!
Source: www.blackjackclassroom.com
Interesting facts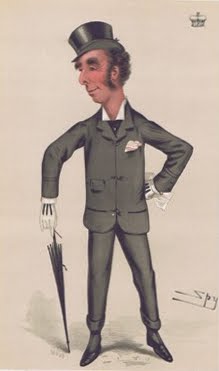 The Marquess of Queensberry rules is a code of generally accepted rules in the sport of boxing. They were named so because John Douglas, 9th Marquess of Queensberry publicly endorsed the code, although they were written by a sportsman named John Graham Chambers. The code of rules on which modern boxing is based, the Queensberry rules were the...
You might also like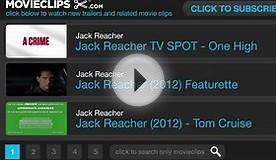 Jack Reacher TV SPOT - Reacher Rules #1 (2012) - Tom ...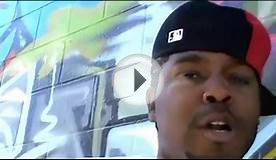 Jack Murphy - Obey The Rules [OFFICIAL VIDEO]
All That Glitters Rule Britannia Union Jack Dress Womens Costume


Toy




Includes: Sequined dress
Excludes: Boots
Small (6?8),Medium (10-12),Large (14-16)
Jack Russell Terrier Property Laws Fridge Magnet


Kitchen (Wag Whimsy)




Fridge Magnet
3 1/2 inches x 2 1/2 inches (9cms x 6.5cms)
Very Strong Hold
High Resolution Gloss Finish
Made in the USA
Related Posts