Casino Surveillance
Don't bet against the house
June 20, 2015 – 09:56 am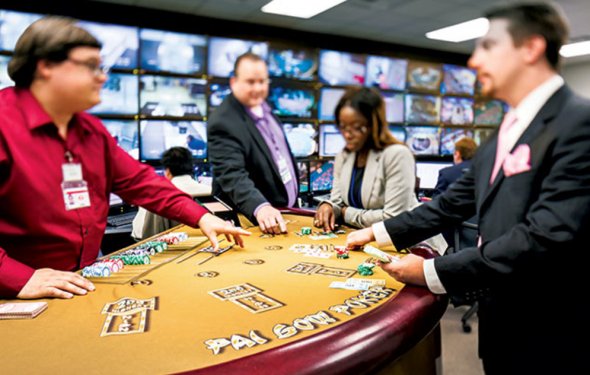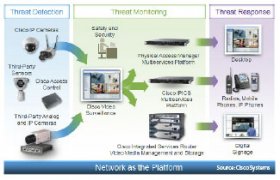 Las Vegas–based movies and TV series long have painted a shiny, sexy, high-tech picture of casino video surveillance, with all-seeing cameras keeping track of everything going on in the "house." The reality is much more mundane, with technology only starting to catch up to Hollywood's ideal.
Schwartz has real-world experience in the field, having worked in the surveillance department of a casino in Atlantic City, N.J., before coming to UNLV.
"One of the worst two nights of my life was when I was working surveillance, " Schwartz said. A casino teller had come up short for the evening and it was his job to review the recorded video footage to spot where the loss had occurred. "I'm watching in slow motion every chip, every transaction, looking for the shortage. I never found it. Watching someone sorting money, changing money, in slow motion is not very fun."
While vendors and casino officials wouldn't get into specific numbers at properties, a mega casino found on the Las Vegas Strip can have anywhere from 3, 000 to 5, 000 cameras distributed all around the property, with some cameras picking up people on the street three to four blocks away. Individual cars entering in the parking garage or pulling into the valet area are identified through the use of license place recognition software.
Inside, cameras monitor entrances, hallways and anywhere money changes hands, including bars, restaurants and gift shops. But most lenses are pointed at the casino floor, directed at the table games and at every two or three slot machines. They are powerful enough to "read serial numbers on bills, " Schwartz said.
Earlier generations of casino surveillance systems were built using analog video cameras, coaxial cable, matrix switchers, VCRs, and lots and lots of video tapes. Back in those days, simply rotating video tapes every eight hours was "an aerobic workout, " said Tom Flynn, the vice president of security and surveillance for Caesar's Palace and the Rio. According to Flynn, the ability to track someone walking through the casino became "almost logistically impossible" due to the number of videotapes involved, spread across dozens of cameras.
Today's digital-based video systems with hard-drive storage greatly have simplified the process of monitoring casino patrons and workers, largely because they have greatly improved speed and efficiency. "What took hours can be done in minutes, " Flynn said. "As a result, we're more effective. Before, when there was an incident on a table game, it would be, 'call us up, we'll call you back.'
"Now, results can be given almost instantly with digital. We are able to spot a person dropping a slot machine ticket, see who picked it up and follow it on replay. If we get it done quickly enough, we can find [the person] in the building and have security go and get the money back for the victim."
Interesting facts
Xenia Sergeyevna Onatopp (Russian: Ксения Сергеевна Онатопп) is a supporting villain in the James Bond film GoldenEye, played by actress Famke Janssen.
Xenia, born in the former Soviet republic of Georgia, was an officer and fighter pilot in the Soviet Air Forces. After the collapse of the USSR, she joined the crime syndicate Janus, led by...
You might also like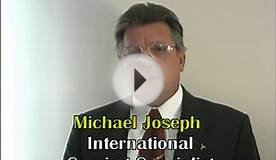 Slick Stick Instructional Video - Casino Surveillance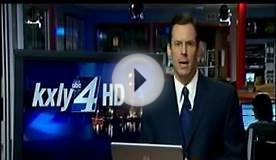 Surveillance video key in casino theft case
Pinball Arcade


Mobile Application (FarSight Studios)




With this free version of the Pinball Arcade, Tales of the Arabian Nights is unlocked for unlimited play!
Pinball Arcade features exact recreations of the all-time greatest pinball tables from Williams, Bally, Stern Pinball, and Gottlieb together in one game. Every flipper...
Judge Dredd, No Fear: Dangerous Sports, Mary Shelley s Frankenstein, F-14 Tomcat, The Getaway: High Speed II, Safe Cracker, Red & Ted s RoadShow, Xenon, JackBot...
Sega Casino - Nintendo DS


Video Games (Sega Of America, Inc.)




Five games
Six unlockable games
Four players
Popular Q&A
who wants to know how the casino surveillance departments operate?
Anyone want to know anything about how those mysterious casino surveillance departments work? I can tell you. Purely for entertainments sake mind you. God forbid, I couldn't advise anyone to take advantage of a casino, that would be against the law, but as an ex surveillance operator I can tell you the ins and outs if you're interested.
Related Posts