What is Insurance in Blackjack?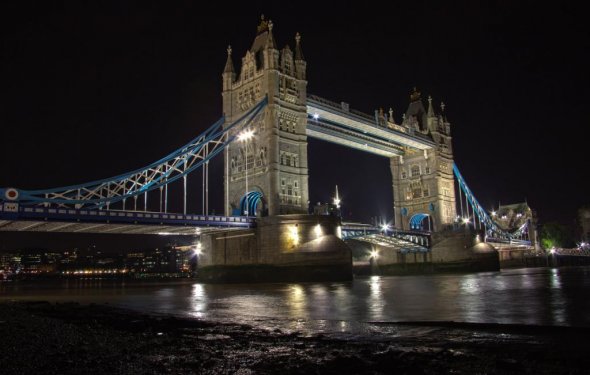 You are here - Home -> Blackjack -> Insurance
When you play blackjack, insurance is offered whenever the dealer is showing an Ace. The idea of insurance is that you are betting that the dealer has Blackjack. If you want insurance, you place half the size of your bet in the insurance spot on the table. If the dealer does have Blackjack, you receive 2-1 on your insurance bet. You are essentially winning your initial bet back when the dealer has Blackjack, for a net of 0 dollars on the hand and the insurance bet. If the dealer does not have Blackjack, you lose your insurance bet and continue on with the hand.
Pictured below you can see a situation where the dealer would ask everyone at the table if they would like insurance. The up-card for the dealer is an ace. At a casino, typically the dealer will say "Insurance Open", wait a few seconds, and then say "Insurance Closed". In between these two statements is the time you would set half your bet size in the insurance area.
When playing blackjack online, each person or hand is asked starting from the right hand side of the screen to the left in a Yes/No or Insurance/No Insurance format. Below is an example of being asked at an online casino if you want insurance: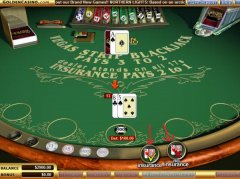 Most times that you will see insurance utilized is when a player has Blackjack. Often the player will say "I'll take even money" which means they are forfeiting the 3-2 blackjack bonus to ensure they win their initial bet. They are essentially putting up the insurance, and if the dealer has Blackjack they push on their blackjack and win on the insurance. If the dealer doesn't have blackjack, the player loses the insurance bet but gets it back when getting paid 3-2 on their own Blackjack. Sometimes you will also see someone with a 20 place money on insurance to "protect" their hand from the Blackjack.
A standard deck as 16 Tens and 36 Non-Tens. This is a ratio of greater than 2 to 1. Even if the first hand gives you two 10's and the dealer an Ace, the ratio changes to 14 Tens and 35 Non-Tens; a ratio that is still greater than 2 to 1. If you are playing with more than one deck, which is the most popular way to play, taking Insurance is even a worse bet.
Interesting facts
Saganing Eagles Landing Casino is a casino located just outside the city of Standish, Michigan, United States. Opened on December 31, 2007, the casino is owned by the Saginaw Chippewa Tribal Council, who also owns the Soaring Eagle Casino in Mount Pleasant, Michigan.
The casino features over 800 slot machines and virtual games on the gaming...
You might also like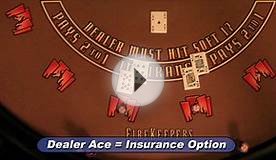 Firekeepers Blackjack Insurance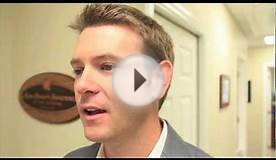 Chris Black Insurance
Rainbirth Casino Slot Machines


Mobile Application (Rainbirth SLU)




Play for free.
No Additional downloads. You download the game and start playing the slots.
8 different slot machine are being released with more to come.
Entertaining mini-games with great prizes, our users top rate our gamble minigames.
Huge amount of rewards and entertainment, gain points experience and rewards.
Unique free gift system. Collect free gifts by playing the machines. Fill up the gift bar and collect them.
Obtain free coins every once in a while as you return to the game.
Relive the Vegas experience on your cell phone or tablet.
Level up and unblock new and fascinating slot machines themes and features.
Translated to English, Spanish, French, Italian, German, and Portuguese.
Popular Q&A
What is a virtual machine?
I've outlined what is, and why you would want to use a virtual machine on my blog.
Related Posts